What is a ventilated facade?
A ventilated facade is a dry-installed exterior building envelope system. It can be installed on new construction sites or on buildings undergoing renovation.
This element provides the building with a space between its perimeter wall and the exterior cladding, which is made of stone, ceramic or metallic panels.
why should you choose a ventilated façade?
A natural stone ventilated facade guarantees very high insulation, creating a high-class energy efficiency while ensuring that no moulds are being formed on the insulation due to humidity.
A ventilated facade is 100% natural and partially limits indoor noise pollution. In summer, it lowers the internal temperature by reflecting heat, dispersing it and reducing radiation.
The natural stone ventilated facade creates an air curtain that keeps heat at a distance, making indoor cooling easier. In winter, the facade preserves the underlying insulation, which remains dry.
Its primary purpose is to moderate the exchange of cold, heat and air that circulates between the interior and exterior of the building. In this manner, the supporting wall is protected from both the cold and heat, resulting in energy savings.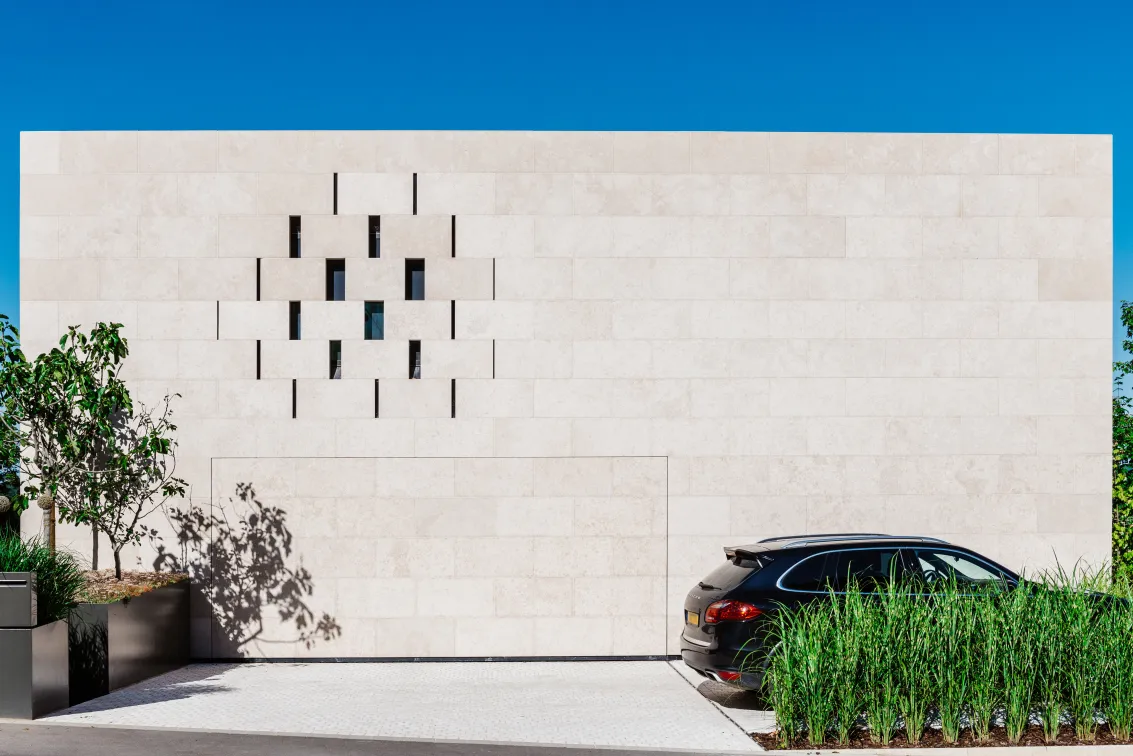 you want to launch a ventilated facade project in Luxembourg?
The possibilities in choice of stones, type of patterns and finishings are endless. Check out our projects for both residential as commercial projects. For facades we propose to work with : shales, limestone, marbles, granites, quartzites or composite stones.
Bertrand is the market leader in Luxembourg for ventilated facades in stone. Our portfolio includes high-end private residences as well as some of the largest and most prestigious buildings in Luxembourg. We also have extensive experience for facades in fibre cement, ceramic, metal and other materials.
Our dedicated Technical Facade team works closely with architects, private and public developers to accompany them throughout the planning and building phases.
Do you want to see what is possible in natural stone of already have a project in mind? Contact and visit us to tell us about your ideas.